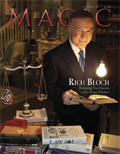 Feb 2011
Michelangelo Featured in MAGIC Magazine
MAGIC Magazine is the largest-selling magic periodical in the world. This month's issue includes a two-page spread featuring Michelangelo and his "Kirigami Ring" trick. The article shows magicians how to perform the trick. Michelangelo, who is noted for his creative presentations, also offers six different ways to use the trick for different situations.
Michelangelo's trick was originally created as part of the Teach by Magic Project. Michelangelo has created more than 50 videos for this project, which uses magic as the basis for learning moments teachers can use in their classrooms. Some of the best tricks and lessons were also compiled in a book.
For more information about this program, visit TeachByMagic.com. The book, Teach By Magic, Book One is available at Amazon.com