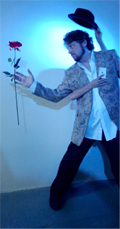 28 June 2010
City Weekly Posts Illusionicity Review
Scott Renshaw, City Weekly Arts & Entertainment Editor, posted a review of Michelangelo's Illusionicity Show that played the Sandy Amphitheater on June 25, 2010. A few highlights:
". . . a performance like Michelangelo's Illusionicity at Sandy Amphitheater Friday night can remind you what's magical about magic."
". . . Michelangelo himself provided a slick mix of big illusions—ladies chopped in thirds, disappearing and reappearing assistants—and close-up card and rope tricks involving audience members."
"Like all the best magicians, Michelangelo sold his illusions not just with technical knowledge but with theatrical showmanship."
And finally:
"If anything, Michelangelo's Illusionicity was too short: A 100-minute performance included a 15-minute intermission, and really only a dozen set-piece illusions between dance routines. But quality can trump quantity—and the goofy grins that come from being artfully bamboozled can trump everything."
For the complete review, Click Here